Maratones dles Dolomites week 2023
Take part in the legendary Maratones dles Dolomites week of 2023! Guaranteed entry into start box 3. This vacation is also part of the Cyclo World Travel Series
During the fully catered cycling vacation you can experience "living like a pro" through BICI E BASTA X Cycle Travel!
- Fully catered cycling vacation in the beautiful Italian Dolomites
- Includes mechanical support, bikewash, sports massage, bicycle clothing washing service
- Unique in this event; participation in the Maratona dles Dolomites
- Follow car during the rides and care on the way
June 28, 2023 / July 03, 2023
[print_product id="PRODUCT_ID" mode="pdf" show_icon="no"]
There are still 3 tickets available.
Road bike rental PINARELLO DOGMA F or F12
Rent a top quality bicycle for this trip. We always have access to the best materials with our local partners.
Medical examination required
A medical examination is required for the trip! Make an appointment at Ancora Health. They have a Health studio in both Eindhoven and Amsterdam. For this trip a minimum of a sports medical report is required. Our advice is to go for at least "Basic Plus" but we always advise to go for an extensive sports medical examination (USMO). Ancora is affiliated with SMI Federation and SCAS certified. This means that you can get money back from most Dutch health insurers for the Ancora packages. An average reimbursement is easily € 150, -. On the site of Ancora you can calculate your own reimbursement.
Laundry service bicycle clothing
After cycling, leave your clothes in the provided laundry bag. Our staff on location will make sure your clothes are clean and dry for use the next day.
Rental Bicycle Navigation Computer Wahoo ELEMNT BOLT V2
Rent your bike navigation inexpensively with us! The Wahoo Elemnt Bolt V2, the top product from Wahoo, is very user-friendly and simple to use. If you rent the bike navigation with a cycling vacation organised by or with Cycle Travel then we deliver the bike navigation installed including the GPX routes of this vacation pre-programmed.
4Gold starter pack bicycle tour
Experience box with 4Gold supplements
Discover our gastrointestinal friendly sports nutrition
Perfect to get acquainted with our products or to give as a gift.
Contents:

4 Energy Bars
4 Isotonic Gels
6 Single Servings Carbo Electro
2 Golden Bottle 600 ml
Sports massage BICI E BASTA
Take care of your body during a BICI E BASTA cycling vacation and take advantage of our professional masseurs.
Take part in the legendary Maratones dles Dolomites week of 2023! Guaranteed entry into start box 3. This vacation is also part of the Cyclo World Travel Series
During the fully catered cycling vacation you can experience "living like a pro" through BICI E BASTA X Cycle Travel! We will visit the most beautiful area of the Italian Dolimites. Namely, we will go to Alta Badia. Badia is a small village in the center of the Ladin region, which includes Val Badia, Val Gardena, Val di Fassa, Livinallongo (the valleys around the Sella massif) and the valley of Cortina d'Ampezzo.
Every year the most beautiful marathons and cycling events take place here with the famous Sella Ronda. The Dolomites are not for nothing on the Unesco heritage of most beautiful landscapes in the world. To give you a good idea, we highlight one of the most striking and beautiful routes that has everything in it that makes the Italian Dolomites so special.
One of the routes that absolutely should not be missed is the Sella Ronda. 'Only' 53 kilometers long, but with four different mountain passes that you will encounter. Campolongo, Gardena, Pordoi and the Sella, to which this round trip owes its name.
The classic version of this tour (because you can ride it in different ways) starts in the village ofCorvara in Badia. The place in itself is already beautiful. You are surrounded by the Dolomites, the famous pointed mountain peaks of stone. The reason that the Sella Ronda can be labeled a "classic" is mainly because of its inclusion in theMaratano dles Dolomites, one of the most beautiful, best organized and most challenging Gran Fondo's there is. Here the classic route is also included, with the start on the Campolongo, then the Pordoi, the Sella and the Gardena to finish.
This route finally revolves around the Torri del Sella. The distinctive and pronounced shape of these points consists of five stone towers connected by a the so-called Lokomotive (locomotive), at a height of more than 2,400m. It is truly and unique place and not for nothing is this section included in the list of UNESCO World Heritage.
CAMPOLONGO
It's nice that this classic round begins with the relatively easy Campolongo. It depends a little bit on where you measure from, but the climb is about 6 kilometers long, with an average of 5.9%. In principle, you will not get hot or cold from that, provided you have a little training. Nowhere is the climb really steep and it meanders nicely to an altitude of 1875 meters. Wonderful to warm up in the morning and it is actually from the beginning enjoy. Do not forget to look back.
What's nice at the summit is that you can really get a look at 'two sides'. Both valleys are clearly visible from the top. The descent is nice and long and clear. Double fine to start.
PASSO PORDOI
After the descent of the Campolongo you come to the village of Arabba. During the Maratona, after the second time Campolongo you have to turn right here towards the monster called Passo Giau. The first time Campolongo then leads you to the right towards the Passo Pordoi. The warm-up with the Campolongo is definitely useful when you start at the bottom of the Pordoi. With 9.2 kilometers of climbing at 7% average, this is no mean feat. Especially since it climbs to an altitude of 2238 meters, just slightly lower than the Sella Pass. So you are tested tremendously here, because it is above 2000 meters and it is steady uphill. When we rode this climb, it was really quite challenging in the Sellaronda. But even here the views are stunning. The roads are beautiful, wide, winding. It's so enjoyable in this part of the world.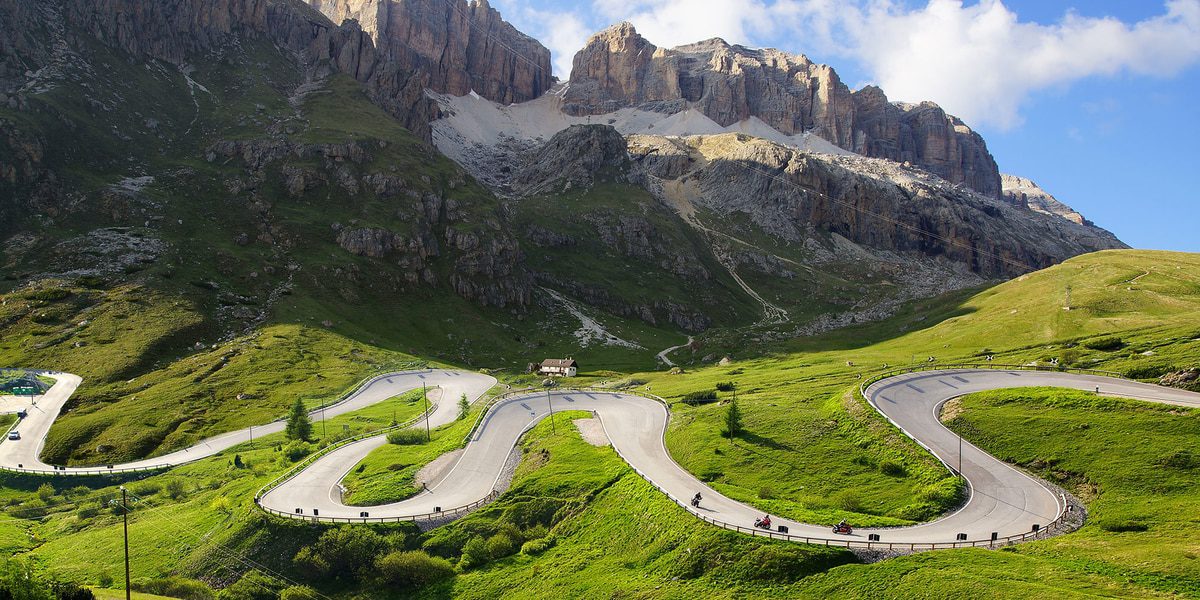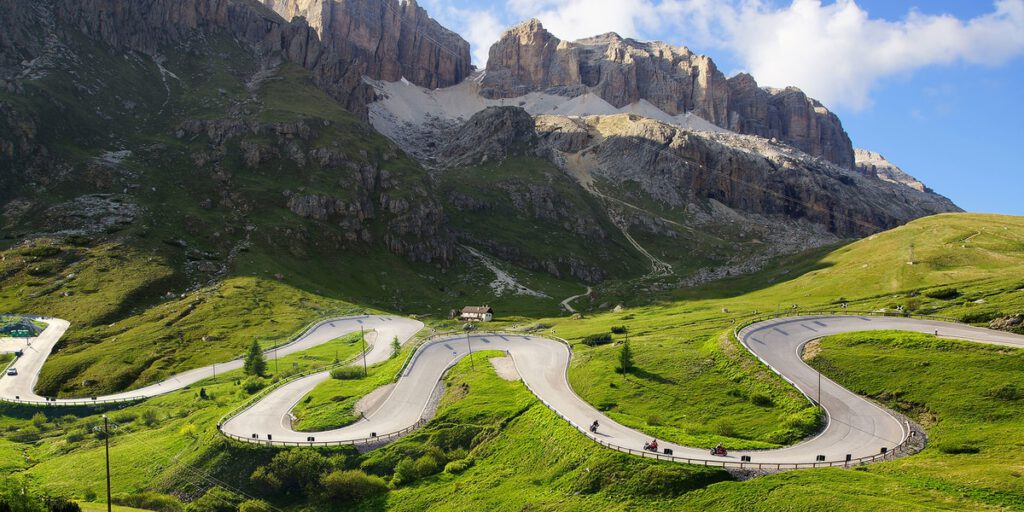 The descent on the other side of the Pordoi is 12 kilometers long and is a fraction steeper than the climb itself. You can descend beautifully though, so good hands in the bottom of the brackets and go!
PASSO SELLA
Brace yourself because after the descent of the Pordoi it turns sharply right up towards the Passo Sella. After the regularity of the Campolongo and the Pordoi, the Passo Sella is really a lot more irregular. It is very difficult to get into a rhythm and especially between kilometers 4 and 8 of this 2244 meter high mastodon it is really hard work. In total you climb in 11 kilometers at 7.2%. You climb slowly between the trees to the top. You really do have some nice hairpin bends, which are also well numbered. The last piece you can see the Torri del Sella very nicely.At the top is a kind of post office / coffee house where you really want to stop, if only to catch your breath after this unpleasant ordeal.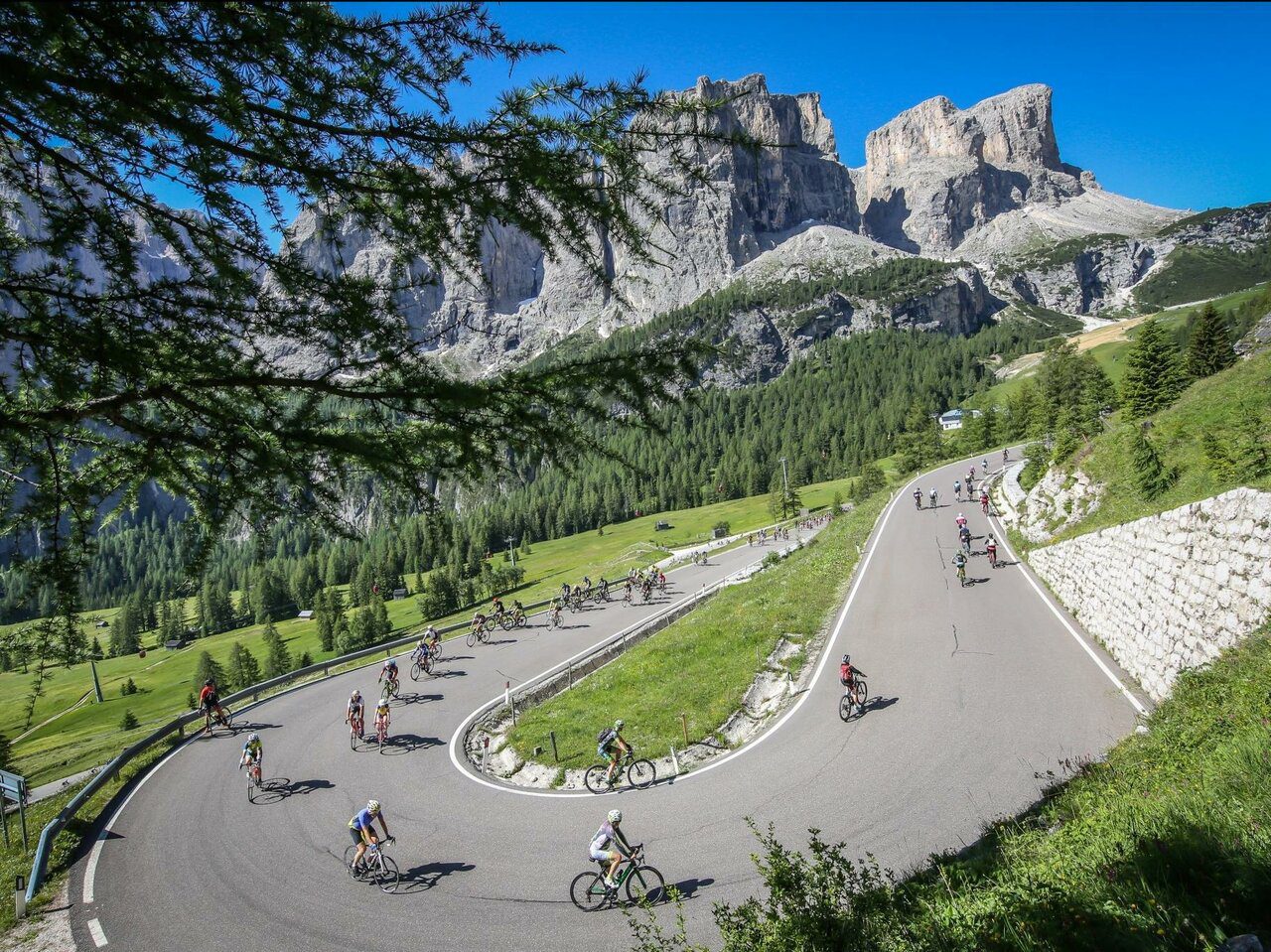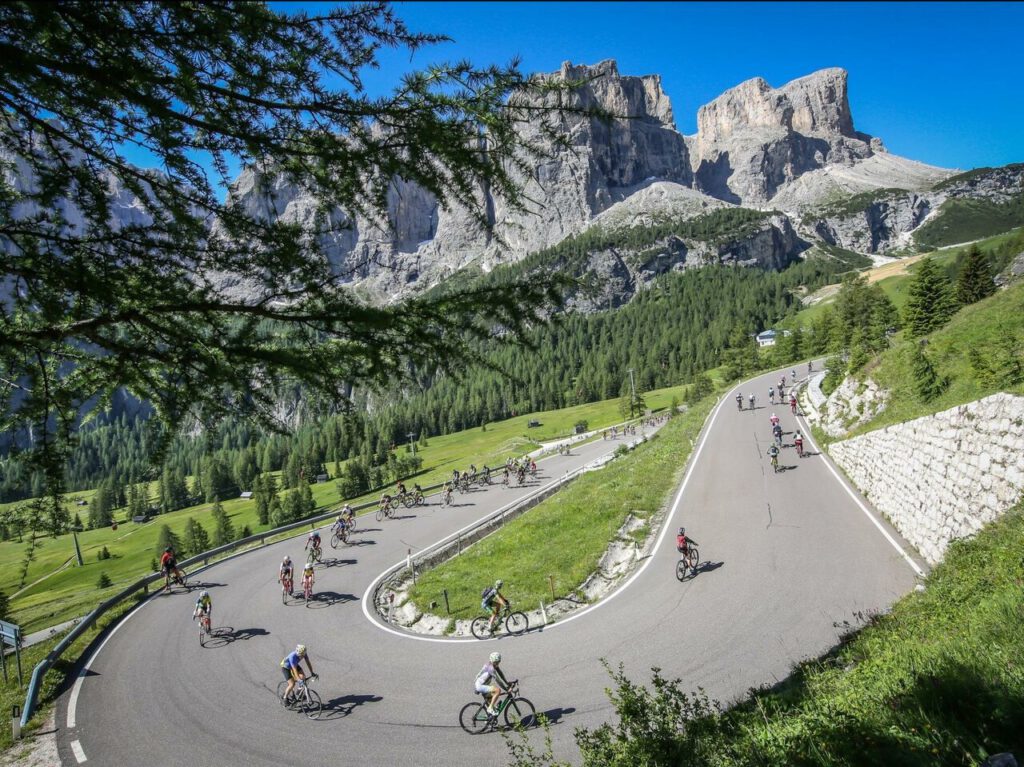 PASSO GARDENA
The finale of this classic tour is the Passo Gardena. This climb is relatively short and actually consists of two parts because in the 5.7 km long way to the top there is a piece of over a kilometer that is flat / descending. Therefore, the overall average of this climb is only 4.4%, but that is distorted by the descent. On the steep parts it is still at 7-8% up, but the final climb is again only 5 to 6%.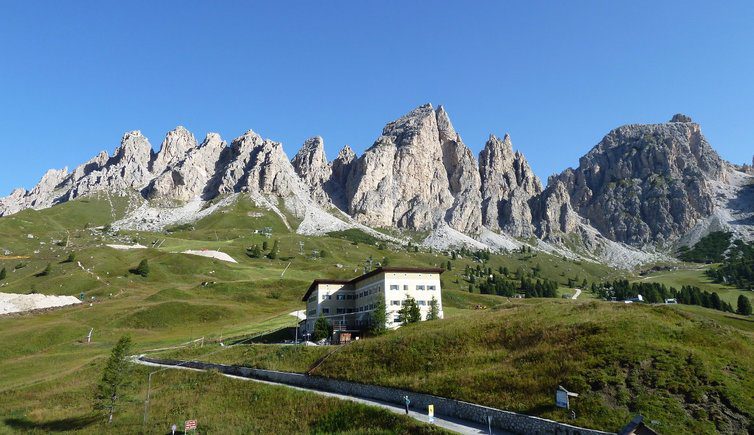 The descent to the village of Corvara is delightful. 7% average and about 9 kilometers brings you back to the start of this classic tour. Back at our hotel, a delicious recovery food meal is ready! It's also a classic to take a picture with the letters of Corvara, which have a nice backdrop.
THE DAY: MARATONES DLES DOLOMITES 02-07-2023!

The Maratona Dles Dolomites is a unique cyclo for all levels. There are also 3 versions to ride:
The complete Maratona dles Dolomites
Length: 138km
Height: 3850hm

Intermediate version Maratones Dles Dolomites
Length: 106km
Height: 3130hm

the Sella Ronda version the Dolomites
Length: 55km
Height: 1780hm

---
Program Wednesday, June 28 to Monday, July 3, 2023
-Would you like to come a (number of) day(s) earlier? There is a possibility to book an early check-in from Monday June 26 with an extra charge of €250,- incl. dinner, overnight stay and breakfast per extra day (based on 2 persons occupancy)

The cycling program is subject to, among other things, weather conditions of course. We can adjust the program if necessary.
Day 1 -Wednesday, June 28
Travel day and afternoon arrival with tour, introduction, briefing and coffee at the Medzi Mountain Hotel in Colfosco. After this a short hour of leg loosening in the area around the hotel.
16:00: Short cycling session with legs loosening up after today's trip. We can take a climb of our choice.
19:30: Dinner followed by briefing.
Day 2 - Thursday, June 29
08:30am: Breakfast.
09:30am: Departure from hotel bar.
Route: Caprile Tour
Length: 101km
Height: 2750hm
19:00u: Dinner followed by briefing



Day 3 -Friday, June 30
08:30am: Breakfast.
09:30am: Departure at the bottom of the hotel bar.
2 Routes: Plose Tour short (climb Erbe) or the Plose Tour long
Length: 55km / 130km
Height: 1500hm / 2800hm
19:30: Dinner followed by briefing



Day 4 - Saturday, July 1
08:30am: Breakfast.
09:30am: Departure at the bottom of the hotel bar.
2 Routes: Pederu Tour or Dolomite Bike Day Tour (counter clock wise)
Length: 69,5km / 57,5km
Elevation: 1200hm / 1480hm
19:30: Dinner followed by briefing


Day 5 - Sunday, July 2
07:00am: Breakfast.
09:00 Departure Maratona in Alta Badia
Route: Maratona dles Dolomites / choice of full distance or 2 shorter versions
Length: 150km /
Height: 4500hm /
19:00h: Dinner followed by briefing

Day 6 - Monday, July 3
07:00am to 09:00am: Breakfast.
We say goodbye and start our return journey.
During our bike rides, a follow car will be present. We take spare materials with us, provide the necessary sports drinks, water and food along the way. At fixed locations during the bicycle tours we will make a stop with food. A permanent tour guide is present during these tours.
The sporting aspect is suitable for anyone who has an average or good physical condition. We take into account the differences between us, this is also normal in the mountains. The most important thing is that we will all have a great week of cycling. The accommodation and facilities are top, the surroundings are great!
To participate in the maratona, a medical examination is mandatory!
---
What is included?
-Start guarantee through the arrangement of in start box 3.
-Live like a pro package powered by Cycle Travel & BICI E BASTA
-Entry fee for the Maratones Dles Dolomites
-Free Maratona dles Dolomites 2023 cycling shirt, official Castelli Maratona dles Dolomites 2023 windbreaker.
-Lodging based on half board in a 4-star accommodation (Lunch from the support car on the routes)
-Recovery food after the bike rides.
-Mechanical support during the vacation.
-Full car or tour guide during the tours
-Bike wash; every day the bikes are cleaned and checked.
-Sports massage; during your stay you may schedule a free sports massage. Would you like to schedule more massages? See additional services to book.
-Bike clothing laundry service; after cycling, hang your clothes in matching laundry bag at the reception. We'll make sure your laundry gets back to your room quickly and nice and clean!
-Locked storage for bikes
-Bike workshop
-Towels
-Bed linen
-Reservation fee
-Final cleaning
-Use of the wellness area
-Use of the Fitness
-Sport nutrition package; a package tailored to your daily consumption including recovery from 4Gold.













What is not included?
-Carriage to accommodation
-Tourist tax €2,55 p.p.p.n. to be paid on the spot
-Travel and cancellation insurance
-Rent of road bike (Pinarello)
-Medical examination; for participation in the Maratona it is mandatory! Ask for it and may be reimbursed through your insurance.
-Drinks & snacks during dinner or from the hotel bar or lounge.



Services to be included;
-Extra Sports Massage of €70,-; schedule an extra well-deserved sports massage during the week. Recover better from your efforts.
---
ENROLLMENTS PER GROUP / LUXURY SUITES
For this trip it is possible to book your own luxury family suite with a minimum number of 4 people. In this luxury suite apartment is also a private kitchen and additional sanitary facilities. This is at no extra cost or surcharge.
This trip can continue at the minimum enrollment of 8 people. The organizer reserves the right to cancel this trip if the minimum number of registrations is not reached. The trip will then take place with an adjusted offer, you will receive an adjusted proposal in time. Your registration for the Maratona remains intact!
---
How can I register?
-Directly through the Cycle Travel website, through our Tour Operator partner we provide guaranteed registration.

Early-bird registration offer through 31-12-2022:
-Get a clothing set from BICI E BASTA worth €250 (pants-shirt-socks) with this trip for bookings before 31-01-2023!

Payment options
-Directlyvia Ideal, Creditcard, Bankcontact or pay later via Klarna.
-Oninvoice; if you choose this option you will receive the final invoice within 3 working days with a deposit of 20% and the remainder at least 4 weeks before the trip.
-Voucher; do you still have a voucher from a previous trip? Then pay by invoice/account and receive your corrected invoice within 5 working days.

General Terms and Conditions
https://cycle-travel.cc/algemene-voorwaarden
---
---
YOUR TOUR GUIDE
Giampaolo Zilli
Born and raised in the Netherlands but with Italian ancestors. Combines his passion for cycling with his passion for Italian life.
Arranges everything from the Netherlands and is the contact point for anyone who wants to know more about the trip. Knows his way around Italy and can tell you everything about the Maratona trip.
Location: Colfosco, Mezdi mountain hotel (Italy)
This four-star hotel is equipped with everything. Everything to relax after long bike rides and get ready for the next day.